Ever wonder how to maximize two-way radio battery life for your Motorola, Hytera, Vertex, Icom, Kenwood or any other brand of handheld radios? We'll discuss how you can prolong the life of your
two-way radio batteries
and as well as how to determine when it's time to plan for replacements.
Motorola two-way radio battery advice: How to check two-way radio battery age
Look for the 4 digit date code on the front of your battery.
The 1st 2 numbers stand for the year and the 2nd / 3rd numbers stand for the week of the year the battery was manufactured.
If the date is more than 1.5 years old, you should replace the battery.
This battery below was made during the 14th week of 2013 (April 2013).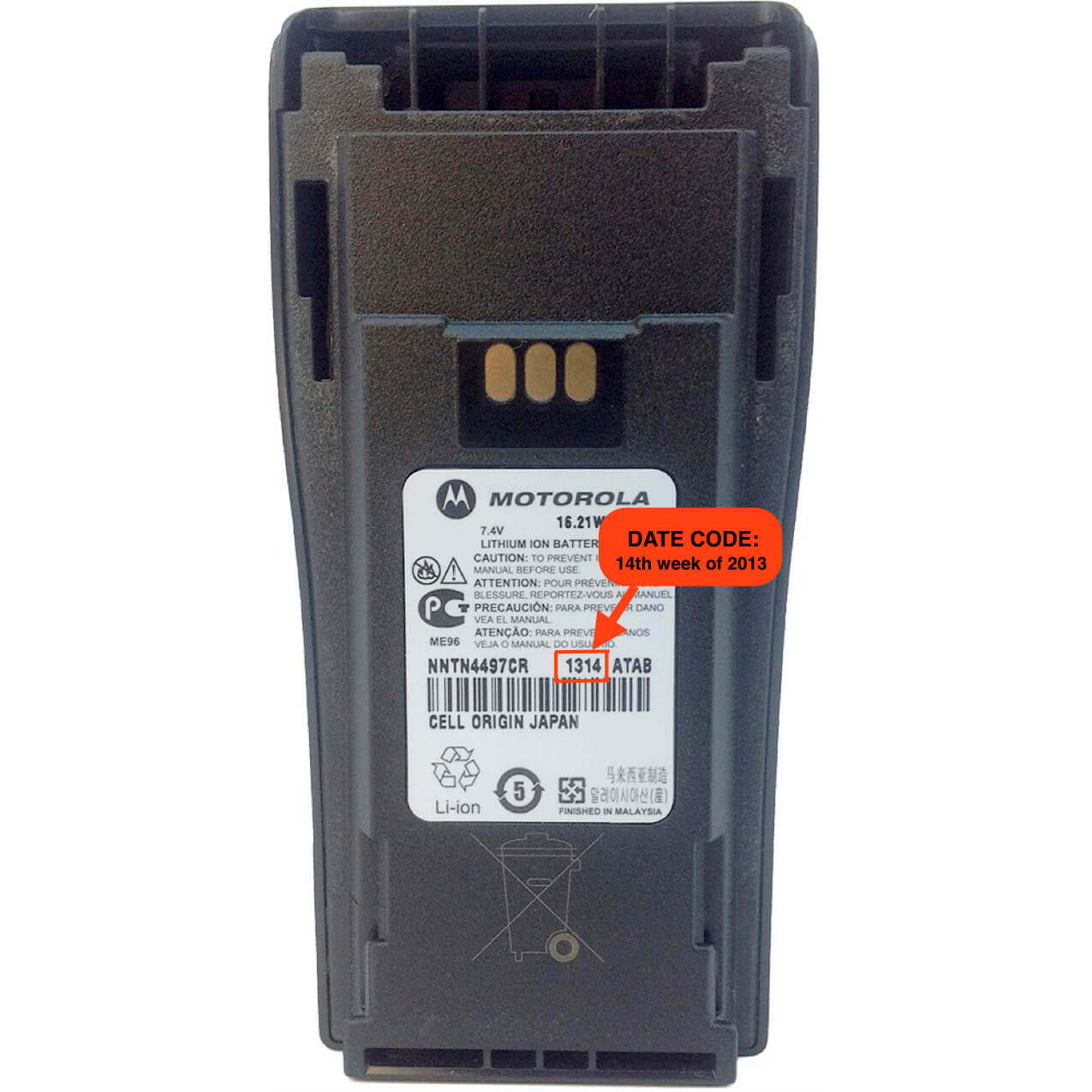 Two Way Battery Care
Charge your new battery overnight before using it. This is referred to as "initializing" and will enable you to obtain maximum battery capacity.

Lithium-ion/Polymer: Charge 1-2 more hours after the charger light turns green.

In order to minimize capacity loss and cycle life reduction, new, non-initialized batteries must be stored in well ventilated, cool and dry locations. Batteries stored in these conditions may be stored:If used batteries are to be removed from service for extended periods (greater than 30 days) they should be discharged to about 50% of their capacity. Store in a cool, dry, location.

Lithium-ion Polymer up to 18 months.

Charge a new battery after it is fully discharged (Lithium Ion batteries can be recharged at any time).
DO NOT use the battery charger as a radio stand; continuous charging will shorten the battery life.
Keep spare batteries for swapping out when your battery needs to be recharged. This is the most cost effective solution for users requiring longer operating time.
Batteries that are in storage for more than two months need to be recharged:

Lithium-ion/Polymer: Charge 1-2 more hours after the charger light turns green.

When using a rapid charger, leave the battery in the charger for an additional 1-2 hours after the steady green light appears.
Only charge a battery when it needs it. If it is not fully discharged, do not recharge it.
Do not return fully charged batteries to the charger for an 'extra boost.' This action will significantly reduce cycle life.
With proper care, batteries should last about a year and a half.
Battery Analysis
Two-way radio batteries are central to the proper functioning of your radios. Many radio users are unaware that their radio batteries are close to expiring or loosing power. A lifeless battery can cause many radio failures and warning signs are a first clue to a potential problem (see battery care on the advice page). For many operations radios are used on multiple shifts and are not cared for or inspected on a regular basis. Good quality radios are meant to last even in the most harsh environments, however, your radio is only as good as the battery inside.
Our new FREE Battery Analysis service is designed to get a current reading of your battery status. The new system is called the Battery Optimizing System. This system provides fast, effective and accurate readings of the battery health and can accommodate most any battery.